Play 9 or 18 Holes in Paradise
The Links at Divi Aruba is a challenging golf course with 9 holes that play over the water or along lagoons. There are three tee boxes per hole and a beverage kiosk with restrooms located between the 3rd and 4th hole. To get around the course, we offer convenient golf carts, which are included in the green fees. Plus, players can take in the sights and sounds of Aruba's colorful wildlife while birds and iguanas bask in the sun and roam through the grass.
Our course offers spring/summer and fall/winter rates and twilight pricing after 3 p.m. Our top-notch customer service starts at our pro shop with our knowledgeable staff and convenient equipment rental. Our services also include golf bag assistance and help navigating the course with our "golf starters."
Open to the general public
First tee time is 7 a.m.
2 par – 5 holes, 5 par – 4 holes, 2 par – 3 holes
3 tee boxes per hole–front nine | back nine
Golf Tee – 2,927 | 2,945 yards
White Tee – 2,649 | 2,681 yards
Red Tee – 2,284 | 2,368 yards
6 holes play over the water or along lagoons
Distance markers for 100, 150, and 200 yards, as well as distance markings on sprinkler heads
Beverage Kiosk – 8:45 a.m. to 4 p.m.
Restrooms between holes 3 and 4
Mandatory golf cart (no on-course caddy service)
Assistance with loading and unloading golf clubs from the golf cart
Dress Code – Collared shirts for men and women, sleeveless shirts may be word by women only and must have a collar. No jeans or "cut-offs" allowed. Only golf-length shorts are permitted.
Facilities
In addition to a great course, The Links at Divi Aruba also offers:
Bunker practice area
Driving range – open daily from 6:30 a.m. to 6:30 p.m.
Chipping area
Club repair and re-gripping facility
Golf equipment and accessories
Tennis & Pickleball equipment and accessories
Group events
Clubhouse with 2 restaurants and bars
Pro Shop – open daily from 6:45 a.m. to  5:45 p.m.
On-site tennis courts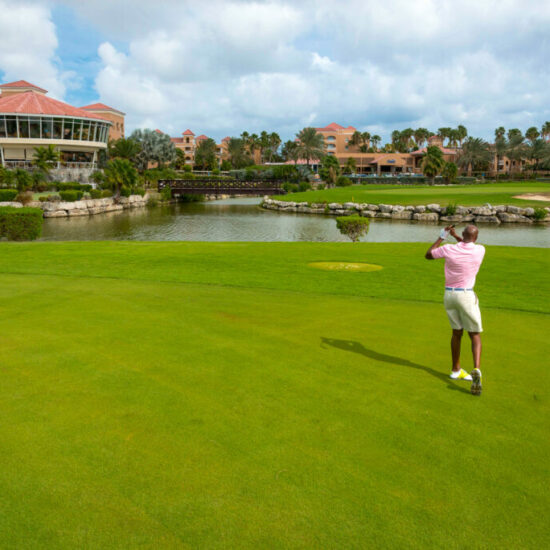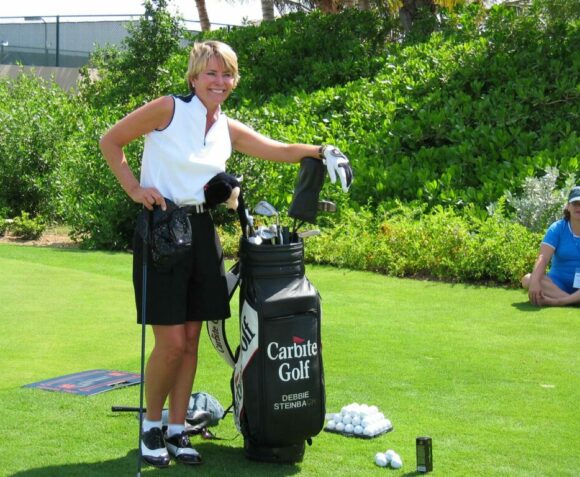 Services
We know how important it is to work on your game, so The Links at Divi Aruba also offers:
Private lessons with our golf pros
Group instruction
Convenient Stay & Play packages
Fun weekly tournaments
Seasonal rates and twilight pricing
We're excited to have you play at The Links at Divi Aruba! Make sure to check our FAQs and reach out to our Pro Shop if you need assistance.